Are you looking to practice shooting your firearm? Whether you are a beginner or experienced shooter, it's always good to find a shooting range near you.
Shooting ranges let you practice your shooting in a safe and controlled environment. They are great for practicing gun safety and teaching a newbie how to use a firearm.
Many shooting ranges have staff members who are experts with firearms. They can help you learn how to shoot and practice responsible gun ownership.
But how do you find a good shooting range? What are the criteria for the best shooting range for your needs?
Here's how to find a good shooting range: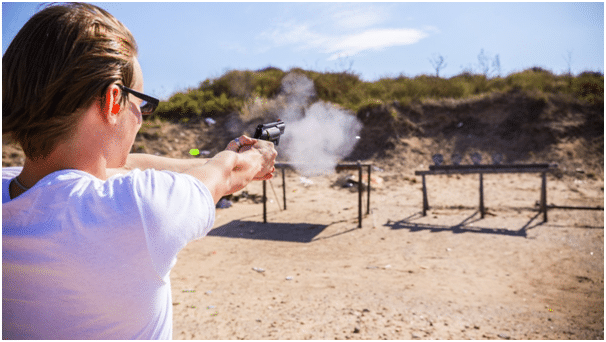 Welcoming to Beginners
Even if you are an experienced shooter, you should always look for a shooting range that's welcoming to beginners.
These shooting ranges will have staff that has good etiquette and are willing to help all customers. These shooting ranges also attract the most responsible and helpful customers.
A shooting range is the last place that you'd want to experience tension. A shooting range that welcomes beginners will pay attention at all times. They will make sure no one is irresponsible with their firearms.
As a side note, when you search for shooting range near me make sure the range takes steps to clean and maintain the premises. Again, this is something that will be standard with a range that's beginner-friendly.
They Offer Classes
Many shooters like to improve their skills on their own. But it's ideal to find a shooting range that offers firearms training classes.
These are a great way to learn a variety of firearms skills, including:
Improving your marksmanship
Practicing firearm safety
Preparing for a dangerous scenario or confrontation
Learning how to shoot different types of guns
How to practice responsible gun ownership
If a shooting range offers classes, you can be assured that the staff is friendly and helpful. They will make sure to offer help to all customers and make them feel welcome.
Learn the Rules
Before you head to any shooting range, make sure you research their rules beforehand. For example, you want to learn if you have to purchase a membership before using the range.
You want to know if there's an age requirement for the shooting range. Some shooting ranges will allow children to attend and will offer classes on shooting for children. Others will prohibit any minors altogether.
You should also inquire about what equipment the range provides. Most ranges will provide you with protective eyewear and headphones. But you always want to check in advance.
If you are a beginner, you might feel comfortable shooting when it's not too busy. Give the range a call to ask when they experience "downtime."
It's also imperative to find out if the range has an area to sit and relax. If you want to spend a few hours at the range, you will get hungry and dehydrated. Make sure to ask if you can buy snacks and beverages. If not, ask if you can bring a cooler with your own snacks and beverages.
Read the Reviews
The best assessment of a great shooting range is hearing from other shooters. Once you've prepared a shortlist of shooting ranges, look up their reviews.
You can use a professional review site like Yelp! to see reviews. You should only choose a shooting range that has several 5-star reviews. If most reviews are negative, avoid the shooting range even if it appeals to you.
An alternative to review sites is to interact with other shooters. Ask your friends who own firearms which shooting ranges they prefer. You can also accompany them to their favorite shooting ranges to assess them for yourself. You can also interact with online gun forums to get recommendations.
It's also imperative that you choose a popular shooting range. You want to figure out how many visitors this shooting range gets each month. Does this shooting range have a website and social media presence?
If it doesn't, then the owners don't take their business seriously. One can expect that they don't take running the shooting range seriously either.
What to Do at the Shooting Range
Once you've found your ideal shooting range, follow the etiquette of shooting ranges. You also want to observe if your fellow shooters are doing the same. If they aren't, then this isn't a shooting range that you should revisit.
Make sure to bring your firearms in a bag. You shouldn't take them out until you settle yourself in a shooting lane. The range master should state the rules when you arrive at the shooting range. It also helps if the rules are displayed on a large sign.
The range master's rules should get considered the law on a shooting range. Make sure to follow them and observe if other shooters are also respecting these rules. If your fellow shooters show a lack of respect for the range master, never return to this shooting range.
When you are in your shooting lane, your focus should be on your shooting and nothing else. You shouldn't get distracted by anything else and you shouldn't distract others. If other shooters or staff members try to distract you or try to chat while you shoot, then this isn't a shooting range to return to.
Read Also: Everything to Know About Tracked Vehicles
As a final rule, you want to make sure that shooters clean up their range before leaving. If they leave it up to the staff, then it means this range doesn't attract responsible shooters. This is not a shooting range environment that you want to come back to.
Find a Shooting Range Near You
Now you are ready to find a shooting range near you. Make sure you take the time to research the best shooting ranges first. Read their reviews and ask around for endorsements. Don't hesitate to call the shooting range with any questions you might have.
If a shooting range isn't to your liking, find the next one. You want a place where you feel comfortable and where firearms safety is taken seriously.
Be sure to read more great content on firearms on our website!